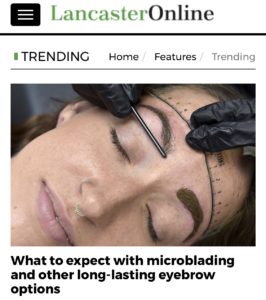 Lancaster Newspaper
Brittany chats with LNP all about Microblading and SofTap permanent cosmetics.
Read the full article (and watch the video) here!
There's a slew of options for those looking to give their brows some pizzazz, from pencils to powders to pomades. Coloring one's eyebrows, however, can add more time to a beauty routine.

Microblading is the latest trend in the eyebrow game. Clients essentially get many tiny, hair-stroke tattoos on their brow bone to give the illusion of hairs. Some individuals just fill in their existing brow to create the look of fullness. Others, who have lost their brows completely due to illness or over-plucking, get completely new brows from the service.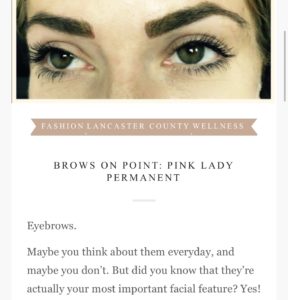 Things To Do Lancaster, PA
Brittany's microblading services are listed as one of the many things that Lancaster has to offer!
Now, a lot of us don't know how the heck to make our eyebrows look like Cara Delevingne, but there is one local lady who can help.

Her name is Brittany Leitzel—owner of The Pink Lady Salon and Pink Lady Permanent, a personalized services specializing in shaping your brows through microblading.